Better Education
I'm committed to making education a top priority for Georgia so that each child can maximize his or her potential.
Improved Commute
I am determined to identify real solutions to ease the trafffic congestion in our district.
More Transparency
I'm opposed to tax increases and will focus on ethics reform to increase accountability.
Review Senator Van Ness' Sponsored Legislation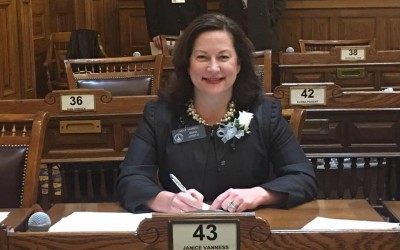 I am looking for an aide to help with constituent services for the rest of February March and April. The ideal candidate would be someone who is at least a high school graduate and has college experience. The person needs to have good writing skills and be able to...
read more
STRONGER ECONOMY
A great quality of life is something we all desire. My goal for District 43 is to properly plan so that we can build a strong community that will continue to attract businesses, which will, in turn, help sustain our tax digest. I believe in smaller government with local control as much as possible.
MORE TRANSPARENCY
I'm oppposed to tax increases and believe in ethics reform to increase accountability. We need to ensure we have leaders in place who can effectively find solutions to key concerns like ethical challenges, unchecked growth, rising crime rates, and a lack of community cohesiveness. 
BETTER COMMUNITIES
It's essential we preserve the rich resources and heritage of District 43 while embracing changes that build upon our foundation and lead us to an even better District. We must continue to foster a sense of community where we have compassion for one another and work together for the common good.
There are no upcoming events to display at this time.
Senator Van Ness on the Issues

I am committed to making education a top priority for Georgia so that every child can maximize his or her potential.
I believe more must be done to stop illegal immigration in Georgia, and I am opposed to the creation of sanctuary cities.

I am determined to identify solutions to ease traffic congestion, which will improve the quality of life for residents.

I am opposed to tax increases and wasteful spending and will fight in the Senate against others who propose them.
ABOUT SENATOR JANICE VAN NESS
JaNice Van Ness is a civic leader who loves to serve her community and looks forward to advocating for residents and business owners in Senate District 43. The district includes parts of Dekalb, Rockdale, and Newton Counties. She has been a business owner for over 25 years and is very involved with the Chamber of Commerce and Rotary Club. Her experience in the private sector has been as the Founder of Peachtree Academy Private School and Early Childhood Centers, which now has three campuses in Rockdale and Newton Counties. Her thriving business and passion for education have helped her expand the school and achieve SACS accredition for the Private School that offers Pre-Kindergarten through High School. As a visionary business owner, she serves as the Chief Financial Officer and has managed budgets, planning and human resources, understanding the business friendly environment that is needed to create jobs and help businesses grow and flourish.
Make sure your voice is heard!
Elections for the office of Georgia State Senate will take place in 2016. The primary election will be held on May 24, 2016, and the general election will be held on November 8, 2016. The deadline to register to vote in the primary is April 26, 2016.
---
The Presidential Primary is a separate election that takes place March 1. Georgians must register to vote by February 1, 2016, to be eligible to vote in the contest. The general election for President is Tuesday, November 8, 2016.
---
More information on election dates can be found here.
Tell your family, friends, and co-workers to vote! I need your help spreading the word in local churches, taking absentee ballots to our community members in nursing homes, and canvassing neighborhoods.

We need a better economy!
We need better schools!

We need better communities!
Georgians can register to vote 24 hours a day on the
Secretary of State's website
or by downloading the "GA Votes" app on their smartphone. Voters can check their registration status, early voting location, and view a sample ballot on the app or on the office's
My Voter Page
.